Case Studies
Examples of businesses that have already made a positive impact on climate change.
Has your business taken steps to reduce its carbon footprint? Let us know to be featured on our website and share your experience with others setting out on this journey. Please email Climate@Swale.gov.uk.
Wasted Kitchen - Choose to Refill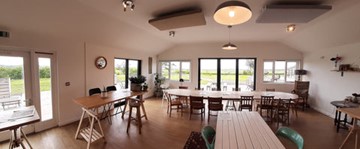 2.5 billion coffee cups are used and thrown away each year in the UK – enough to stretch around the world roughly five and a half times. Wasted Kitchen is one of the Swale businesses choosing to only offer Refill, improving the customer experience and cutting out waste.
Read more about Wasted Kitchen.
Cook Food Solar Power
One Swale business is leading the way in supporting the Council's pledge to "invest in our environment and respond positively to global challenges" through the installation of a rooftop solar array. In collaboration with Orchard Community Energy (OCE), the 158kW installation at the new COOK Classics Kitchen, will provide power to freeze their award-winning meals and the kitchen's other energy needs for the next eighteen years.
Read more about Cook Classics Kitchen.
Age UK Faversham & Sittingbourne EV Trial
Age UK Faversham & Sittingbourne were one of the first organisations in Swale to utilise the Kent REVS Electric Vehicle hire scheme. "We've never used an electric vehicle before and were keen to give a go. We're really pleased we did. As a charity, the idea of purchasing an electric vehicle seemed beyond our reach. But thanks to the trial, we now know that an electric van will work for us and that we can apply for funding to help us with the cost."
Read more about Age UK's EV trial.
Businesses Using Faversham Car Club
One of Faversham car club's first users Jaike is already loving the service. Here's what he had to say:
"It's fantastic, especially as we run a business in Kent and do a lot of travelling to and from clients."